Cryptic Press Web
Cryptic Home Page: everything in the world begins here
Quicken Forbidden: All about the hit adventure series.
Movies: See why the kids at Cryptic get no sleep
Alyson Hannigan as JAX!: spreading rumors wherever we can!
COMICS: everybody loves them!!! endulge yourself!
dave roman: Dave is the writer of Quicken Forbidden
Abby Denson: Abby is the creator of TOUGH LOVE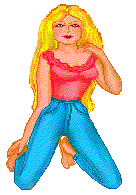 AIM
Series2 Issue #1 Written and Illustrated by Miss Lasko Gross.
Kesh L'echo is a short tempered, but well meaning girl on the lower East Side of New York City. Her friends are a bunch of back stabbing losers, and her love life is a sucking vortex of sexual angst and unrequited lust. And if little girls from your hometown being abducted isn't enough, how does watching your enemies get there butts kicked on national T.V. sound? This series picks up where the original five issue mini series left off.
Aim #1 is available through FM Internal Comic Distributers or directly through Cryptic Press.